 Designed for accurate ordering of diagnostic tests and procedures and timely report delivery to the right clinical teams, patient safety is at the heart of this solution.
Each component of the Eclair closed loop solution can be adopted by hospitals and healthcare organisations into their workflow using a staged approach.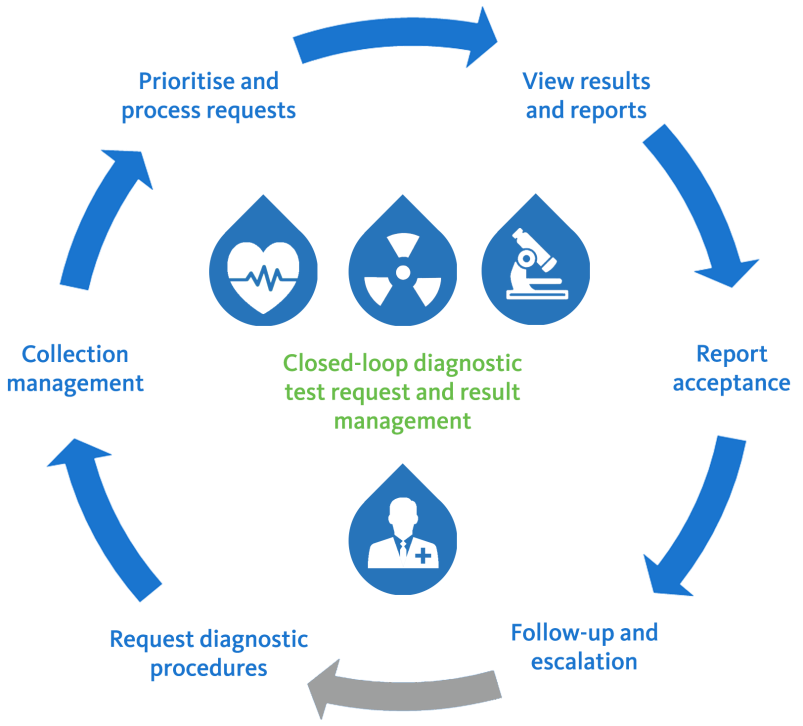 Eclair Collection*

Eclair's Collection module supplies total management of the specimen collection process for lab tests, including collection requirements, phlebotomy lists, and support for partial collects.

Eclair Triaging

Eclair's Triaging module lets service providers easily assess and prioritise referrals based on department guidelines and full supporting information captured with the request.

Eclair Results*

Clinicians access reports assigned for review via My Dashboard, Inbox or use the multiple search options to view patient records. Eclair supports a range of result management tools to cumulate results, graph trends, view images, bookmark, add notes or refer to reference material.

Eclair Sign-off*

Clinicians sign-off, refer or re-assign diagnostic reports awaiting their attention via My Dashboard. The out-of-office tool can also be used to manage report sign-offs in the event of absence.

Eclair Escalation*

Reports that remain unaccepted are automatically escalated to another clinician's Dashboard for sign-off, ensuring timely review of all patient results. Rules are used to determine and manage the escalation pathway.
Eclair Closed Loop Diagnostic Test Request and Report Management
**Eclair is not a medical device as it does not have a therapeutic purpose.