Designed for near patient testing and low sample volume laboratories, the
pocH-100i

is built on the proven technology of the Sysmex high-end haematology analysers.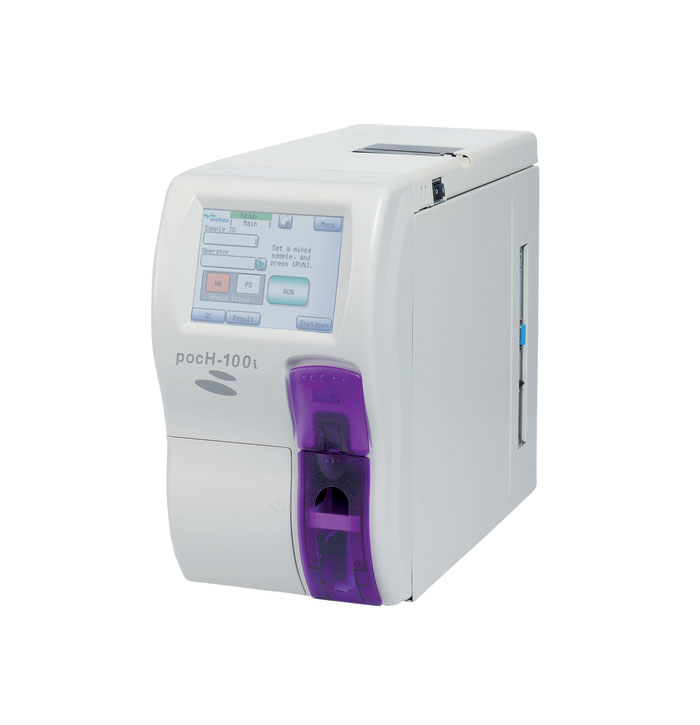 Small footprint fits easily on a laboratory bench or table

Closed tube patient and QC sampling

Only two reagents for complete results

Same direct current detection method as Sysmex high-end systems to provide accurate, comparable results

Simple '2-step' operation to obtain test results
The pocH-100i demonstrates perfectly why size doesn't matter. And that being compact can actually have some significant benefits. Using Sysmex's proven impedance technology with hydrodynamic focusing, this great 3-part differential analyser delivers absolute counts based on defined volume analysis with the excellent reliability typical of all our instruments.
Thanks to its compact size, and because we designed it with the user in mind, the pocH-100i is easy to use and a great solution for both inside and outside the classical laboratory environment. You'll find it particularly useful in advanced doctors' practices, small rural health centres, or on the ward. And both your laboratory and non-laboratory staff will be operating it with confidence in no time.
Dimensions / weights

W x H x D [mm / kg]
85 x 350 x 460 / 14kg

Technologies

DC detection method (WBC)
DC detection method with sheath flow (RBC, PLT)
cyanide-free photometry (HGB)
cumulative pulse height method (HCT)

Parameters

whole blood mode
WBC, RBC, HGB, HCT, MCV, MCH, MCHC, PLT, LYM (#,%), MXD (#,%), NEUT (#,%), RDW-SD, RDW-CV, PDW, MPV, P-LCR
pre-diluted mode
WBC, RBC, HGB, HCT, MCV, MCH, MCHC, PLT

Throughput
approx. 148 sec/sample
Aspiration volume
15 μL (whole blood); 20 μL sample volume (pre-diluted mode)
Quality control

2 QC programs (Xbar control; Levey-Jennings); 6 QC files, QC charts
internal daily QC: Sysmex Eightcheck-3WP
external QC: Sysmex IQAS
The pocH-100i demonstrates perfectly why size doesn't matter. And that being compact can actually have some significant benefits. Using Sysmex's proven impedance technology with hydrodynamic focusing, this great 3-part differential analyser delivers absolute counts based on defined volume analysis with the excellent reliability typical of all our instruments.

Thanks to its compact size, and because we designed it with the user in mind, the pocH-100i is easy to use and a great solution for both inside and outside the classical laboratory environment. You'll find it particularly useful in advanced doctors' practices, small rural health centres, or on the ward. And both your laboratory and non-laboratory staff will be operating it with confidence in no time.

Dimensions / weights

W x H x D [mm / kg]
85 x 350 x 460 / 14kg

Technologies

DC detection method (WBC)
DC detection method with sheath flow (RBC, PLT)
cyanide-free photometry (HGB)
cumulative pulse height method (HCT)

Parameters

whole blood mode
WBC, RBC, HGB, HCT, MCV, MCH, MCHC, PLT, LYM (#,%), MXD (#,%), NEUT (#,%), RDW-SD, RDW-CV, PDW, MPV, P-LCR
pre-diluted mode
WBC, RBC, HGB, HCT, MCV, MCH, MCHC, PLT

Throughput
approx. 148 sec/sample
Aspiration volume
15 μL (whole blood); 20 μL sample volume (pre-diluted mode)
Quality control

2 QC programs (Xbar control; Levey-Jennings); 6 QC files, QC charts
internal daily QC: Sysmex Eightcheck-3WP
external QC: Sysmex IQAS