Sysmex New Zealand Launches New App for Digital Swab Collection
Sysmex New Zealand has worked closely with the Institute of Environmental Science and Research (ESR) since the beginning of the COVID-19 outbreak to support the Ministry of Health's pandemic management response.
Testing remains as one of our key tools for curbing the spread of the pandemic. With high testing volumes daily, the need was identified for a robust paperless management solution for a person's COVID-19 testing requests, results, and national reporting.
With the roll out of the digital Border Clinical Management System (BCMS) to all Managed Isolation and Quarantine Facilities (MIQF) in Auckland, Wellington, and Christchurch, the use of Sysmex New Zealand's Eclair as the national clinical data repository (CDR) has dramatically streamlined the collection and collation of COVID-19 test reports from testing labs facilities across the country.
A key part of the solution is the Eclair Touch Covid-19 app, developed by Sysmex New Zealand and launched in February. The new app digitizes the collection of COVID-19 test swabs – accurately linking the test order, the patient and the specimen through barcode scanning and confirmation of the patient's identity– all cohesively managed via the national Sysmex Eclair repository.
Guests entering the country require 14 days in a managed isolation or quarantine facility. Each guest is provided with a National Health Identifier (NHI) number barcode, which is printed off for them to present when they get a test – on days 0/1, 3 and 12 of their stay. Upon completion of the test, scanning the barcode with the app easily matches the swab ID with the patient's ID.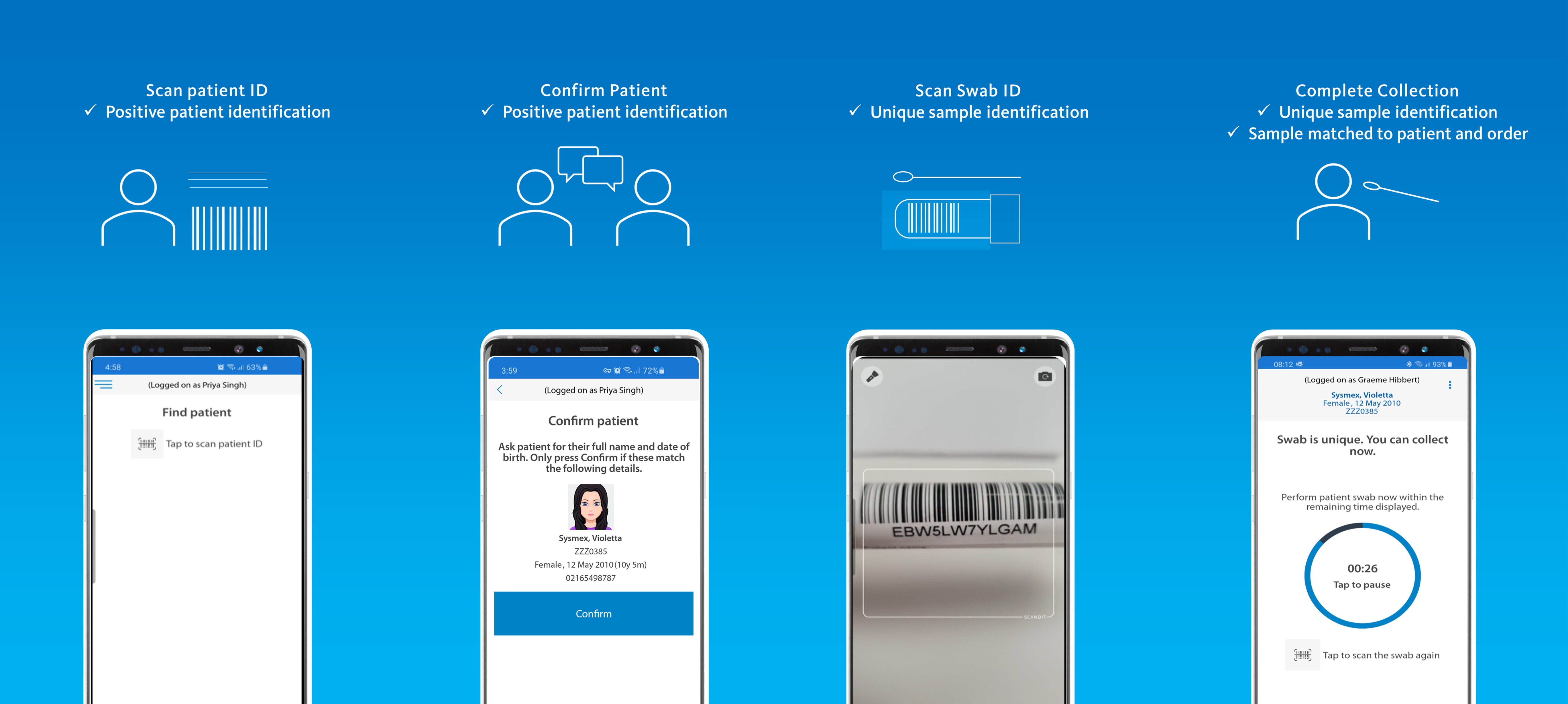 EclairTouch COVID-19 app features
The uptake of the new app has seen immense benefits for the collection workflow in the quarantine facilities. The most recent adoption in Canterbury quarantine facilities has reported to considerably speed up collection rounds, reducing times from up to 4 hours to 1.5 hours.
The Eclair Touch COVID-19 app is now being trialed at a community testing center in Auckland, with the anticipation to roll out the app across testing centres nationwide This allows people tested in community facilities to be accurately identified against their NHI, removing the need to manually complete paper lab request forms which reduces delays in the collection process as well as in the laboratory.
This presents another key milestone for Sysmex New Zealand, helping New Zealand digitise the border management and community testing workflow to the laboratories. Sysmex's health solutions will continue to provide an open platform for further innovation in strengthening the country's population health management.
Read more about the BCMS here and the new app used in MIQF here.