Compact Automation:

Fully automated haematology workstation. Medium-sized labs with a fair smear rate will appreciate the XN-3100, which includes two XN analysis modules and the fully integrated slide maker / stainer module SP-50.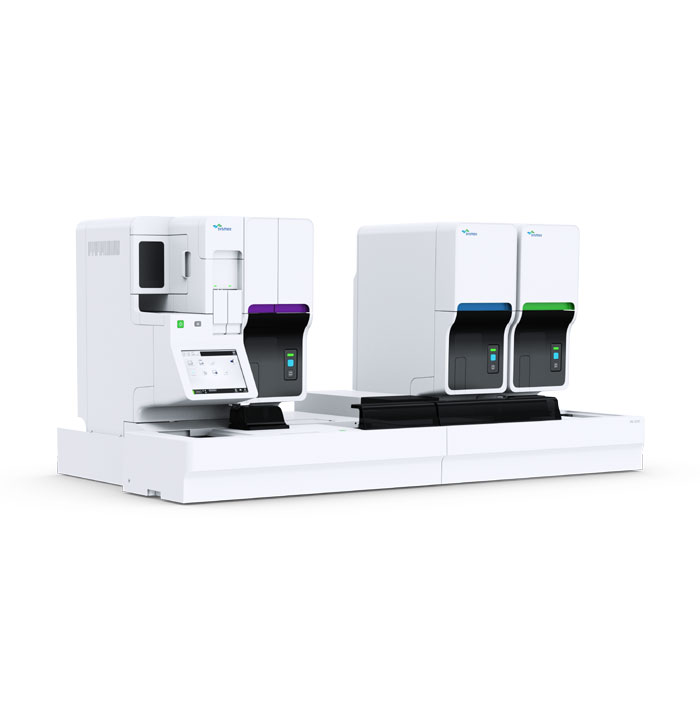 Fully integrated slide maker & stainer

CBC throughput of up to 200 samples/hr

Smear throughput of up to 75 slides/ hr

Customisable diagnostic applications catering to variable clinical needs

Integrated backup concept
The XN-3100 is a bench-top system consisting of 2 XN modules coupled with an integrated, 5th generation slidemaker and stainer (SP-50). It offers a unique co-primary solution that automates sample processing to slide preparation and staining.
An optional integrated digital morphology solution, DI-60, may be added to increase its productivity as well as provide further standardisation to the laboratory process.
Measurement principles

WBC DIFF/RET/PLT-F/WPC: Fluorescence Flow Cytometry
RBC/PLT: Hydrodynamically focussed impedance
HGB: Cyanide-free SLS haemoglobin

Aspiration volume

XN module: 88 µL in whole blood (WB) mode and body fluid (BF) mode
SP-50 module: 70 µL for smear preparation in auto mode, 38 µL for smear preparation in manual mode

Throughput

Two modules of XN-10/20 in combination with SP-50 (S or H)
up to 200 samples/h in whole blood (WB) mode,
up to 40 samples/h in body fluid (BF) mode per module,
up to 30 slides/h in standard mode,
up to 75 slides/h with the optional high-throughput licence

Quality control

XN Check (three levels) and XN Check BF (two levels)

Parameters

XN-CBC (always with NRBC) & XN-DIFF (always with IG)
Whole Blood
WBC, NRBC%, NRBC#, RBC, HGB, HCT, MCV, MCH, MCHC, PLT, RDW-SD, RDW-CV, MicroR%, MacroR%, PDW, MPV, P-LCR, PCT, NEUT%, NEUT#, LYMPH%, LYMPH#, MONO%, MONO#, EO%, EO#, BASO%, BASO#, IG%, IG#
With RET (optional)
RET%, RET#, IRF, LFR, MFR, HFR, RET-He, RBC-He, Delta-He, HYPO-He%, HYPER-He%, PLT-O
With PLT-F (optional)
PLT-F, IPF, IPF#
With WPC (optional)
Extended Inflammation Parameters licence: NEUT-GI, NEUT-RI, RE-LYMP%, RE-LYMP#, AS-LYMP%, AS-LYMP#
XN Stem Cells licence
HPC%, HPC#
Body Fluids with XN-BF
WBC-BF, RBC-BF, MN%, MN#, PMN%, PMN#, TC-BF#(optional)
The XN-3100 is a bench-top system consisting of 2 XN modules coupled with an integrated, 5th generation slidemaker and stainer (SP-50). It offers a unique co-primary solution that automates sample processing to slide preparation and staining.

An optional integrated digital morphology solution, DI-60, may be added to increase its productivity as well as provide further standardisation to the laboratory process.

Measurement principles

WBC DIFF/RET/PLT-F/WPC: Fluorescence Flow Cytometry
RBC/PLT: Hydrodynamically focussed impedance
HGB: Cyanide-free SLS haemoglobin

Aspiration volume

XN module: 88 µL in whole blood (WB) mode and body fluid (BF) mode
SP-50 module: 70 µL for smear preparation in auto mode, 38 µL for smear preparation in manual mode

Throughput

Two modules of XN-10/20 in combination with SP-50 (S or H)
up to 200 samples/h in whole blood (WB) mode,
up to 40 samples/h in body fluid (BF) mode per module,
up to 30 slides/h in standard mode,
up to 75 slides/h with the optional high-throughput licence

Quality control

XN Check (three levels) and XN Check BF (two levels)

Parameters

XN-CBC (always with NRBC) & XN-DIFF (always with IG)
Whole Blood
WBC, NRBC%, NRBC#, RBC, HGB, HCT, MCV, MCH, MCHC, PLT, RDW-SD, RDW-CV, MicroR%, MacroR%, PDW, MPV, P-LCR, PCT, NEUT%, NEUT#, LYMPH%, LYMPH#, MONO%, MONO#, EO%, EO#, BASO%, BASO#, IG%, IG#
With RET (optional)
RET%, RET#, IRF, LFR, MFR, HFR, RET-He, RBC-He, Delta-He, HYPO-He%, HYPER-He%, PLT-O
With PLT-F (optional)
PLT-F, IPF, IPF#
With WPC (optional)
Extended Inflammation Parameters licence: NEUT-GI, NEUT-RI, RE-LYMP%, RE-LYMP#, AS-LYMP%, AS-LYMP#
XN Stem Cells licence
HPC%, HPC#
Body Fluids with XN-BF
WBC-BF, RBC-BF, MN%, MN#, PMN%, PMN#, TC-BF#(optional)