Compact Automation:

Fully automated haematology workstation. Medium-sized labs with a fair smear rate will appreciate the XN-3000, which includes two XN analysis modules and the fully integrated slide maker / stainer module SP-10. You can add the fully integrated digital imaging analyser DI-60 as an option. The XN-3000 also comprises the Extended information-processing unit as standard.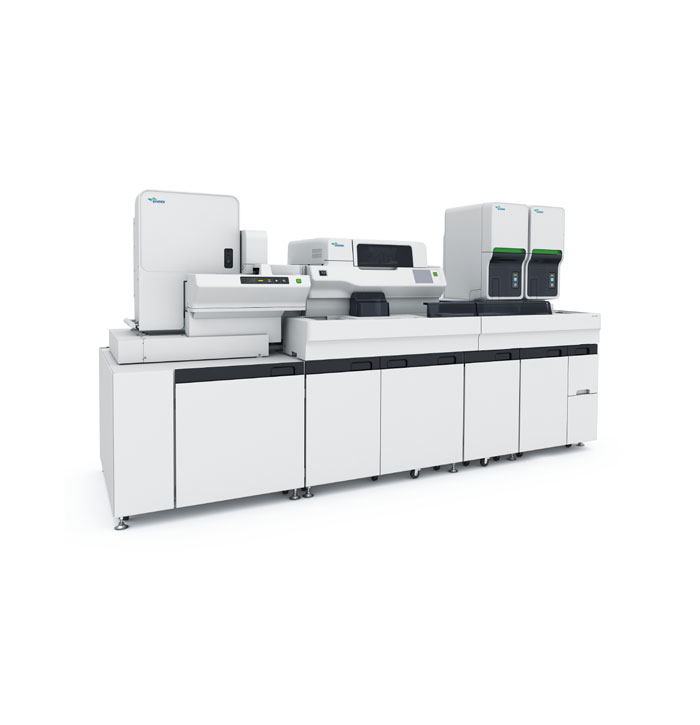 Fully integrated slide maker & stainer

CBC throughput of up to 200 samples/hr

Smear throughput of up to 120 slides/ hr

Customisable diagnostic applications catering to variable clinical needs

Integrated backup concept
The XN-3000 comprises of 2 XN modules coupled with an integrated slidemaker and stainer (SP-10). It offers a unique co-primary solution that automates sample processing to slide preparation and staining. The XN-3000 is an excellent solution for laboratories with medium workload and a relatively high smear rate catering to the ever-evolving clinical needs of the laboratory.
Optional integrated digital morphology, DI-60, solution may be added to increase its productivity as well as provide further standardisation to the laboratory process.
Technology
Fluorescence Flow Cytometry in all modes
Aspiration volume
88µL in all modes
Throughput
starting from 100 samples/h
Quality control
XN Check and XN Check BF
Parameters

28 diagnostic parameter always standard
XN-CBC = always with NRBC
XN-DIFF = efficiency of XE-5000
16 diagnostic parameters are optional

Core models
XN-1000, XN-2000, XN-3000 or XN-9000
The XN-3000 comprises of 2 XN modules coupled with an integrated slidemaker and stainer (SP-10). It offers a unique co-primary solution that automates sample processing to slide preparation and staining. The XN-3000 is an excellent solution for laboratories with medium workload and a relatively high smear rate catering to the ever-evolving clinical needs of the laboratory.

Optional integrated digital morphology, DI-60, solution may be added to increase its productivity as well as provide further standardisation to the laboratory process.

Technology
Fluorescence Flow Cytometry in all modes
Aspiration volume
88µL in all modes
Throughput
starting from 100 samples/h
Quality control
XN Check and XN Check BF
Parameters

28 diagnostic parameter always standard
XN-CBC = always with NRBC
XN-DIFF = efficiency of XE-5000
16 diagnostic parameters are optional

Core models
XN-1000, XN-2000, XN-3000 or XN-9000