The
CA-660

analyser is a compact, fully automated coagulation analyser system which utilises the proven optical detection technology and the same reagent system of Sysmex coagulation family analysers. It (Sysmex CA-660 Analyser) offers high performance automation for both routine specialty haemostasis testing such as D-dimer and von Willebrand Factor activity. Combining the simplicity of use and diagnostic power, the laboratory can be confident that they continuously stay ahead in haemostasis testing with the Sysmex CA-660 analyser.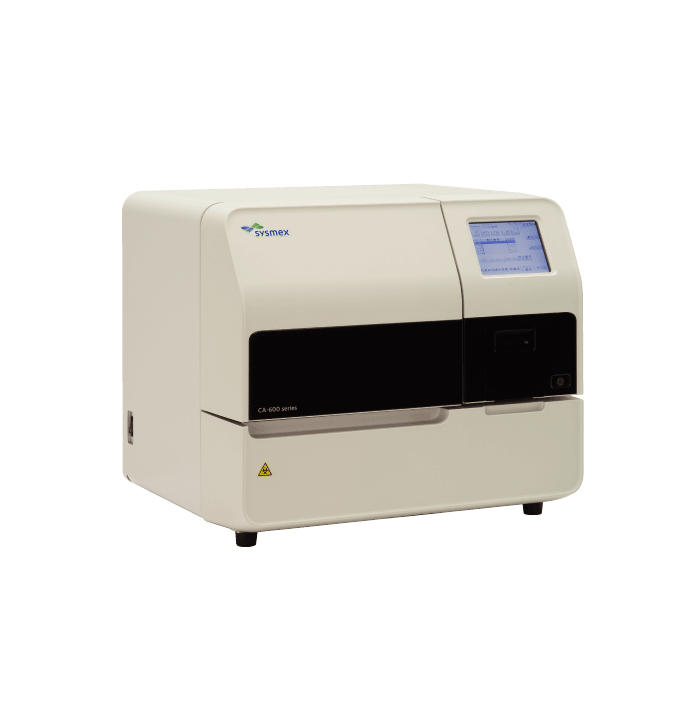 Sysmex's smallest fully automated haemostasis analyser that offers clotting, chromogenic and immunological (turbidimetric) detection principles
The Sysmex CA-660 analyser offers an economical, automated solution for low-medium volume laboratories to achieve analytical excellence, workflow efficiency and improved data management.
Excellent data management
Detection principles
Clotting: scattered light detection method
Chromogenic: colorimetric method
Immunologic: Latex-enhanced turbidimetric method
Detection channel/method
4 LEDs with wavelength 660 nm for clotting assays
1 LED with wavelength 405 nm for chromogenic assay
1 LED with wavelength 575 nm for immunoassay
Parameters
5-parameter random
analysis simultaneously
Throughput
PT: 60 tests/hour
PT/APTT/Fbg: 42 tests/hour
Sampling
Continuous-access 10 sample rack
1 dedicated STAT position
Reagent holder
13 positions (with 4 cooled and 3 dedicated to diluents, buffers or cleaning reagents)
Reference curves
1 reference curve per parameter
1 lot per parameter
Maximum 14 parameters
Quality control
X-bar control, Levy-Jennings control
6 files with maximum 180 points each
Data storage
Up to 600 samples / maximum 3,000 tests
Printer
Internal printer
Dimensions (WxHxD)/weights
566 x 490 x 490 mm, 42 kg (approximate)
The Sysmex CA-660 analyser offers an economical, automated solution for low-medium volume laboratories to achieve analytical excellence, workflow efficiency and improved data management.

Excellent data management

Detection principles
Clotting: scattered light detection method
Chromogenic: colorimetric method
Immunologic: Latex-enhanced turbidimetric method
Detection channel/method
4 LEDs with wavelength 660 nm for clotting assays
1 LED with wavelength 405 nm for chromogenic assay
1 LED with wavelength 575 nm for immunoassay
Parameters
5-parameter random
analysis simultaneously
Throughput
PT: 60 tests/hour
PT/APTT/Fbg: 42 tests/hour
Sampling
Continuous-access 10 sample rack
1 dedicated STAT position
Reagent holder
13 positions (with 4 cooled and 3 dedicated to diluents, buffers or cleaning reagents)
Reference curves
1 reference curve per parameter
1 lot per parameter
Maximum 14 parameters
Quality control
X-bar control, Levy-Jennings control
6 files with maximum 180 points each
Data storage
Up to 600 samples / maximum 3,000 tests
Printer
Internal printer
Dimensions (WxHxD)/weights
566 x 490 x 490 mm, 42 kg (approximate)