Pre-Natal Cytogenetics: An Aid in the Better Diagnosis of Chromosomal Disorders and Aetiology of Spontaneous Abortion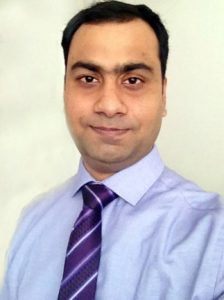 Dr Saurabh Bhattacharya
Director of Clinical Cytogenetics,
Freiburg Medical Lab (A member of Synlab)
Dubai, UAE
Dr. Bhattacharya received his Ph.D. from VIT University in Clinical Cytogenetics, India. He has completed his training in diagnostic Cytogenetics from Christian Medical College and Hospital, Vellore, India. He subsequently underwent extensive training in FISH and Microarray in Germany. His primary areas of interest are in the prenatal and postnatal chromosome and genomic microarray diagnosis, as well as the association between neurodevelopmental features and specific copy number changes.
Chromosomal anomalies can occur in any pregnancy and lead to fetal demise prior to or shortly after birth. They may also be associated with lifelong disabilities. Early detection of fetal chromosomal anomalies can help parents evaluate their pregnancy options. Current diagnostic methods, which include maternal serum screening or nuchal translucency testing, are minimally invasive, but lack the specificity and sensitivity to detect genetic abnormalities in the perinatal setting. Over time, newer methods have been developed for rapid detection of chromosomal aneuploidies. These include fluorescence in situ hybridisation (FISH) and quantitative fluorescence PCR (QF-PCR).
Spontaneous abortion occurs in 15-20% of clinically recognised gestations. Chromosomal abnormalities are the most common cause of spontaneous abortions in the first trimester. Single autosomal trisomies are found frequently in spontaneous miscarriages. The present webinar covers traditional methods for diagnosing such chromosomal abnormalities, focusing on their clinical utility and technological importance.
We hoped you have enjoyed the webinar and gained new insights!
May we request your time for a short survey?